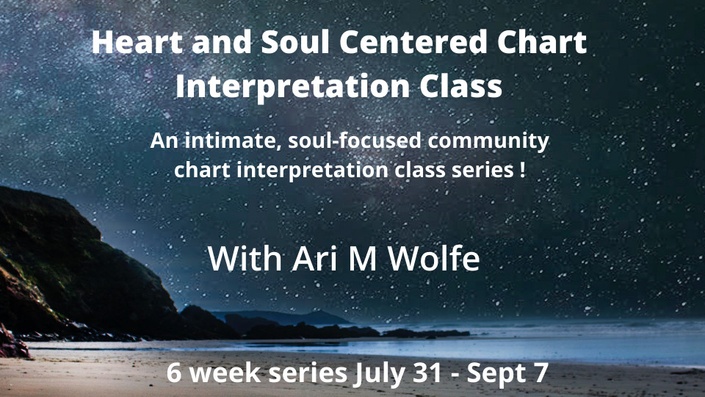 Heart and Soul Centered Chart Interpretation Community Class
An intimate, soul-focused community chart interpretation class series
Enroll in Course
Heart and Soul Centered Chart Interpretation Community Class series! July 31 - Sept 7
Thank you for visiting! The aim of these classes is to create a very hands-on, intimate, caring and direct experience for deepening our connection to the living soul reality of the natal chart. We will learn astrology through connecting with our own charts in a safe, heart and soul centered enviroment for learning and healing.
By each one of us (or those who are open to doing so) sharing themselves and their charts with the group, we will have the opportunity to allow a lot of time and space to examine some of the deeper nuances of the natal chart all from the point of view of the soul's evolutionary path in this life.
How these classes will work:
We will meet for a total of 6 classes. Each class we will give attention to two or three charts. During the week before each class the volunteers will share their charts, bio and any questions, reflections, inner truths about their lives. All of this will take place on the community forum. We will have the opportunity to listen, relish and take in their sharing and ask any questions we want.
During the live class I will facilitate an interactive chart interpretation experience. As I work directly with the individual, I will also be holding space for community interaction and sharing. In an organic way I will elaborate on various teachings as the moment offers the opportunity. In this way we will develop a more thorough feel and taste for the art and sensitivity of soul-focused chart interpretation.
Our weekly meetings will take place on zoom for a 90 minute class and will be recorded for everyone's review. All classes will be on Saturdays at 12:00 Pacific.
Sign up below. NPA members 10% discount (email me [email protected] for coupon code).
Frequently Asked Questions
When does this class series begin and end?
The class series opens up July 31st with our first class on Saturday Aug 3rd. This class series ends the week after our last class on Sept 7.
How long do I have access to the forum and videos
After enrolling, you have unlimited access to this course for as long as you like. All videos will be kept up for students to review.
Do I need to know astrology well to join this course? Who is this course for?
You only need to be able to follow basic astrological language. It is advised that if you don't know what houses are or what an aspect is for example that you might wait on this course and enroll is a more beginners program or begin to study the basic building blocks first (I recommend my ebook: Evolutionary Astrology: A Beginners Guide). Otherwise anyone with basic knowledge at any level will be able to follow along. This course is offered for those who are already studying astrology, practicing or tuned into soul level astrological awareness. Beginners to advanced.
When I volunteer my chart will this be like a full session?
No it wont be. Each volunteer will share themselves and we will delve into whatever arises and learn from that. Our time during class with each volutneer will likely be between 30 and 45 minutes. Each volunteer will certainly receive benefit and learn a lot about thier own soul joureny, but this is not the same as the focused container of an intuitive guidance session with me. The primary intention here is on learning astrology and sharing in a collective learning and healing expeirence.
Is there a limit on class size?
Yes, I plan on capping the class at 20 - 25 students max. Beyond that range I feel the size will begin to take away from the intimate container.
Your Instructor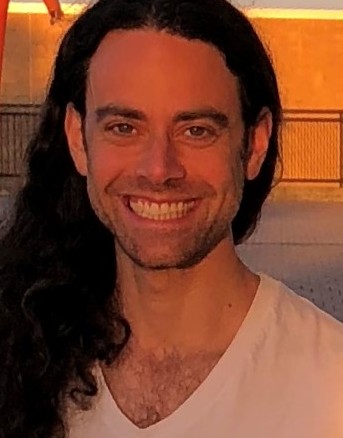 I am a teacher, astrologer, intuitive guide and most of all a musician! My devotion in life is to share harmony and forgiveness to support us all in living clear, wholesome lives with soul awareness. I assist people to attune to their soul directive and consciously emobdy the path they are here to walk. I am trained in Evolutionary Astrology as taught by Jeffrey Wolf Green. I have written the forward to Green's Pluto book when it was republished in 2011 and I have also written my own beginners guide that same year. in 2019 I am birthing my first studio album entitled "Freedom is My Holy Name".
Course Curriculum
Welcome to the Heart and Soul Centered Chart Interpretation Group Class!
Available in days
days after you enroll
For subscribing members of New Paradigm Astrology, contact me at [email protected] to get your coupon code!