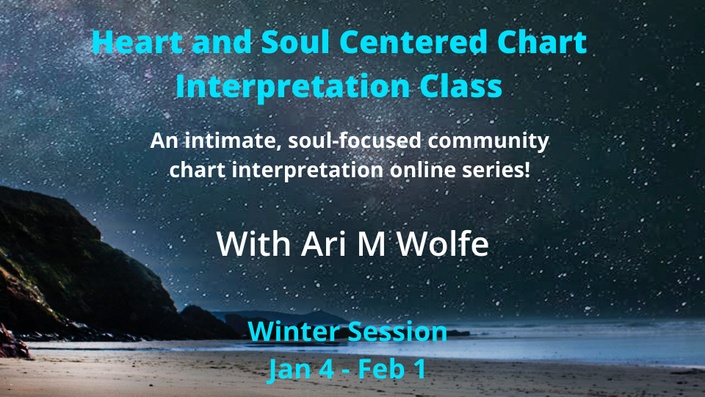 Heart and Soul Centered Chart Interpretation Community Class Series Jan 4 - Feb 1
An intimate, soul-focused community chart interpretation class series
Heart and Soul Centered Chart Interpretation Community Online Class Series!
~ pelase note this is an early discount ~ prices go up by $25 after Nov 21.
Thank you for visiting! This class series provides a hands-on, intimate, caring and direct experience for deepening our connection to the living soul reality of the natal chart. During our classes together we will learn astrology through connecting with our own charts in a safe, heart and soul centered enviroment for learning and healing.
How these classes will work
We meet for a total of 5 clsses. During our time together I facilitate an interactive chart interpretation experience with members of the class. As I work directly with each individual I am also holding space for community interaction and sharing. In an organic way according to the flow of each interaction, I elaborate on various teachings as the moment offers the opportunity.
The series is limited to 10 volunteering students so as to keep a solid container. If you'd like to join but not volunteer your chart, that's totally fine, then just let me know so I can keep the space open to have 10 students who will.
Each class will be held 12:00 - 2:00 Pacific time on Jan 4th, 11th, 18th, 25th and Feb 1st. Classes are recorded for everyone's reveiw.
Sign up below! NPA members 10% discount (in addition to existing discount! email me [email protected] for coupon code).
Frequently Asked Questions
Do I need to know astrology well to join this course? Who is this course for?
At least the basics and an open mind. This course is for astrology students, practitioners at any level and anyone with basic knoweldge who is interested in deepening their knowledge of astrology and the soul through direct personal connection.
When I volunteer my chart will this be like a full session?
Each volunteer will certainly receive benefit and learn a lot about thier own soul joureny, but this is not the same as the focused container of an intuitive guidance session with me. The primary intention here is on learning astrology and sharing in a collective learning and healing expeirence. This being said, having just completed my first class series, I find that there's somethign special about this container that brings a quality of healing that is unique unto itself. I think it's the fact that each person is not just interacting with me, but is also being witnessed in a very vulnerable way by an entire group of people.
If I need to miss a class or more can I still enroll?
Absolutely. It's up to you. Each class is recorded and available within a day after class. All students will have access to the video recordings even after the series commenses.
Can I join but not volutneer my chart?
Absolutely! This is an amazing learning experience. Just let me know so I can keep one of the 10 spots open to someone who will.
Your Instructor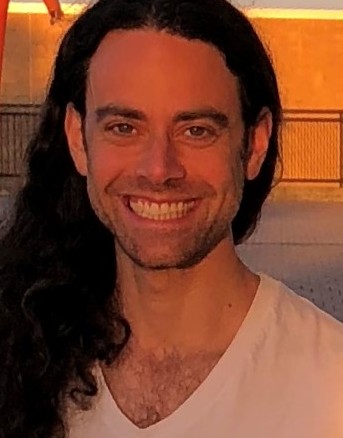 Ari Moshe is a teacher, astrologer, intuitive guide, father and musician. His devotion in life is to share harmony and forgiveness to support us all in living clear, wholesome lives with soul-awareness. Ari is trained in Evolutionary Astrology as taught by Jeffrey Wolf Green and has been teaching and counselig for many years. He wrote the forward to Green's Pluto book when it was republished in 2011 and wrote his own beginners guide that same year. Ari's astrological work has its roots in the EA lineage with its branches extended to express his own authentic and ongoing realization of truth. Ari calls his music Devotional Love Music and in 2019 birthed his first studio album "Freedom Is My Holy Name". www.arimoshe.com
For subscribing members of New Paradigm Astrology, contact me at [email protected] to get your coupon code!